Namaha is a Sanskrit word meaning "beyond me". Usually used as a suffix in mantras and shlokas.
Om Shri Ganeshaya Namaha! A humble salutation to Lord Ganesha. Wisdom is attainable when you submit to the higher power, go beyond your preconceived notion. It is believed that chanting these mantras channelizes your energy and increases your focus. To embed a better version of oneself one has to accept the limitations and harness the unknown potential to go beyond them.
This is similar to clay. Clay is receptive to your emotions, it paves a path towards inner peace. At the same time surprises you with its nature and abilities. One should go beyond the inhibitions. When an idea is conceived there is constant dialogue between the thought and possibilities. The image is rendered gradually to a design , a concept. Then the concept takes form.
The process is equally important to me. I enjoy learning and experimenting with clay. It is an interaction where I get to discover new means and possibilities of making ceramic pieces. Sometimes relearning and learning and breaking the conceived perception is difficult. Shredding the conviction and starting all over again is the most difficult part. This is where one has to take a leap of faith and Look beyond oneself – Namaha.
At Namaha pottery, we explore the conventional and contemporary methods of transforming clay into beautiful ceramic creations. The same opportunity is given to anyone who wishes to join us at the studio. It is a humble set up where one can fiddle with clay and explore their own creativity at their own pace.
Hoi, I am a ceramist based in Amstelveen, Netherlands. Working with clay is like an effortless conversation with an old friend. My passion for clay started long before I even realized it. I would always enjoy playing in the mud and making silly objects from the garden soil. The town from where I come from is famous for Clay idols. Especially the Elephant God- Lord Ganesha. There are huge workshops, Kumbhar wada as we called them, located in the old township. They made very alluring idols. Strolling through the town from one installation to the other (Pandal – hoping) was a must do activity during the Ganesh festival. I think that's where the passion to create from clay was induced in my mind. Gradually this hobby turned into an art school graduation and later into establishing Namaha pottery.
I did an apprenticeship at a glaze factory and a residency program at Golden Bridge pottery, in Pondicherry. Later on I taught in preschool, worked at a TV channel and decided to move to the northern region of India. While doing projects for the Handicraft ministry in the north east to mountaineering in Himalayan mountain range, I explored many regions of India. Though I aspired to start a studio I also wanted to explore different parts of the country. Meeting new people, understanding and learning from their diverse culture is a process I thoroughly enjoy. Being able to enjoy the flora and fauna of a region is an added incentive. At one point I even joined a monastery in Bhutan to study Buddhism. Well, that didn't really work out!
After that I moved to Germany. New place, new language and new environment was something totally different from my earlier experiences in my Home country. No matter where I was Living in India, there would be at least one common language to communicate and some known elements like movies or our love for popular Indian street food would bond us. But all this was tossed out the moment I landed in Hannover. Later we moved to Nuremberg. From carrying an English/German dictionary to a supermarket or wearing a Dirndl to the local beer fest, I have done it all. While studying at the University I met people from all backgrounds. Very often we would talk about similarities and quirks of our individual cultures. What I would wear would be part of the conversation quite often. Your clothes are very nice, are they from India? Do you wear this in India? Do all Indians wear a kurta? Are these colors typical for Indians?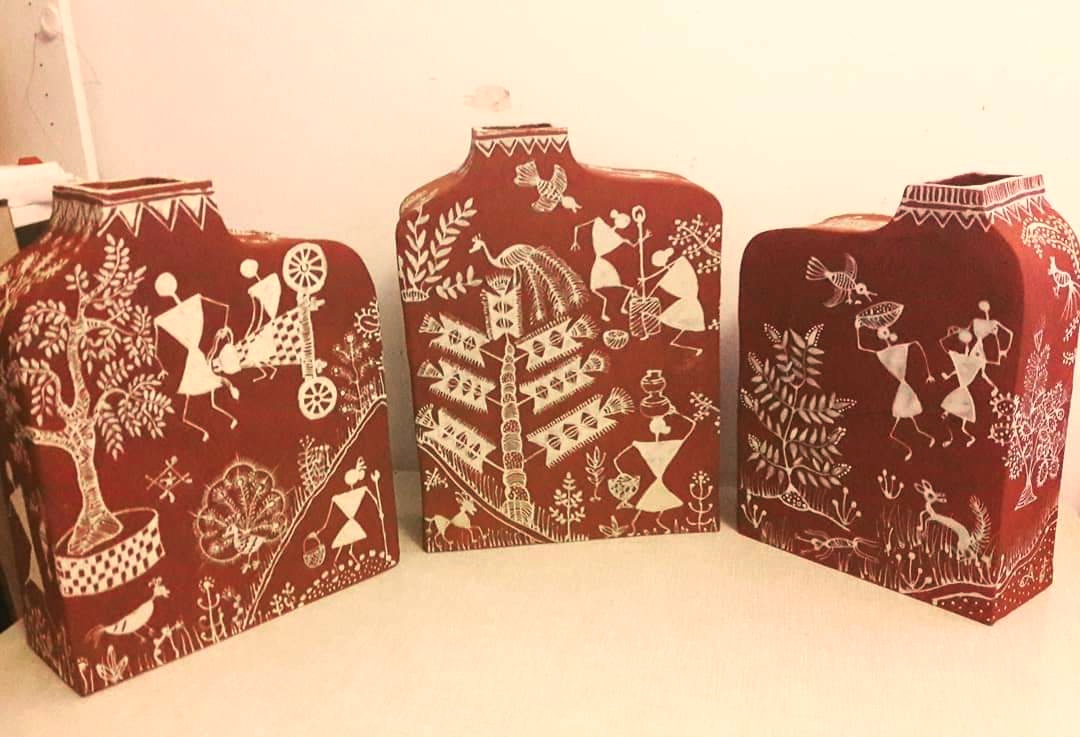 And many more questions? Their curiosity not only made me revisit the knowledge I had about the Indian handloom industry but also gave me an insight about how people perceive a culture. Sometimes a misconception or more often a curious bizarre question. From my end the balancing act of wearing Indian clothes in the German winter also added to the confusion.
My love for traveling has taken me to various interesting places. Be it for excavation or personal travels, it has been a learning experience. While in Georgia (the country not the state) I even dressed some teenage girls in a sari.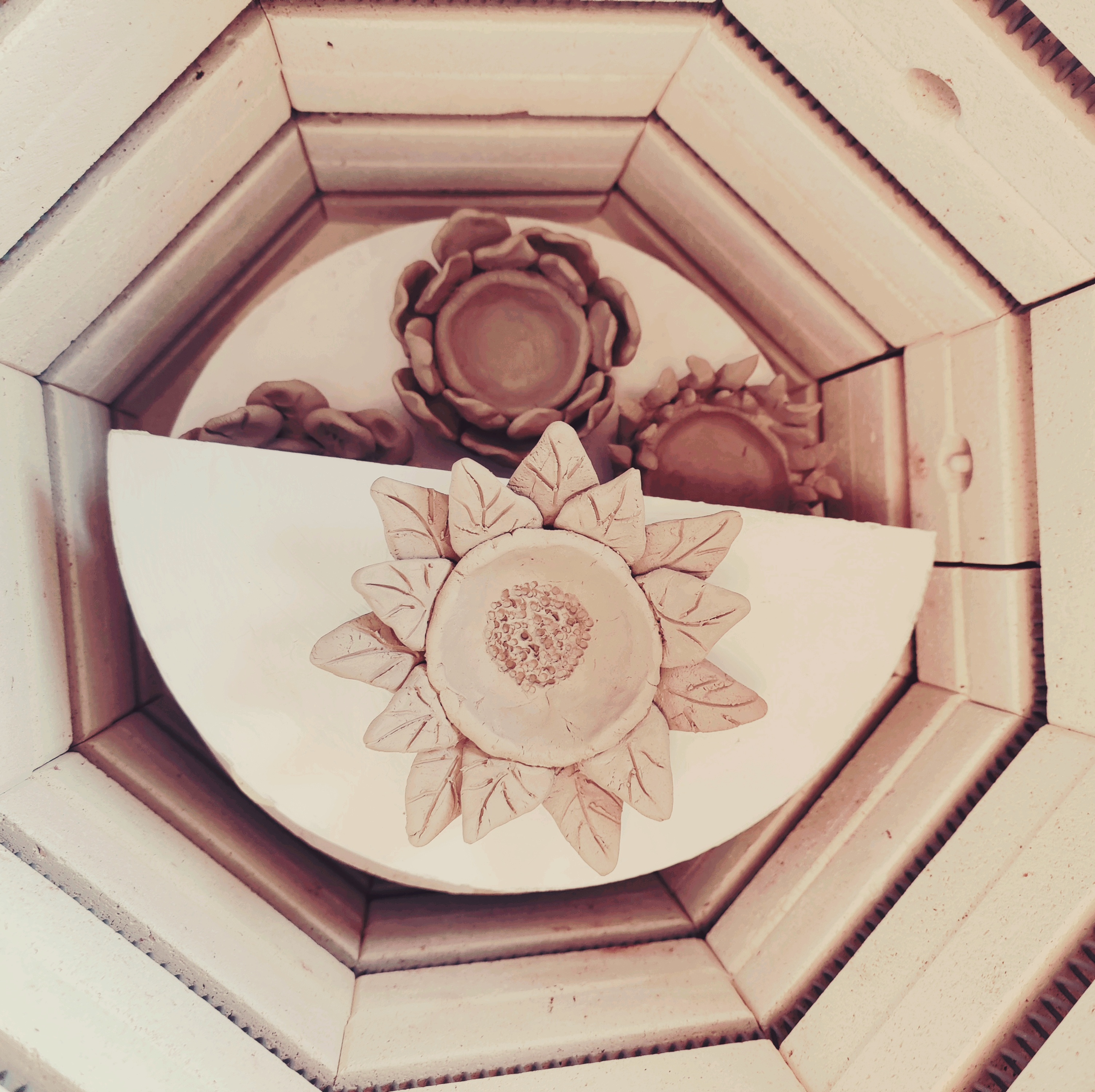 In Istanbul, while we were bargaining at the grand bazaar, a shopkeeper selling us a carpet made a mental note of the cost of the clothes we wore to determine how much we would be able to spend.
Clothes act as a conversation starter, the fabric you wear carries history, art and above all a personality. The pieces are a reflection of such humble memories and nostalgic experiences related to fabrics. What you wear is a matter of your belonging. Where do you come from? The humble cloth is a torch bearer of your culture, environment history and social status.
Much of who you are is where you have been. My work reflects me, my journey. When you meet people from various parts of the world the first interaction churns the cycle of acceptance, differences and similarities. The humble cotton pod weaves into a fabric in turn becomes a dress. A part of one's identity, Likes and choices. My pieces showcase these associations and influences. I am exploring the surface interaction of these motifs to the body itself.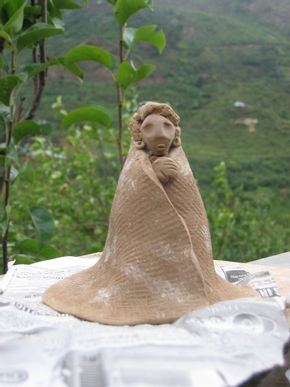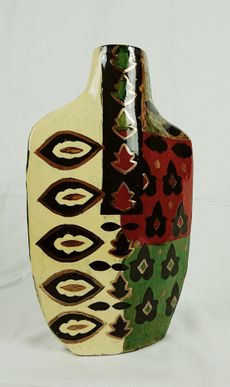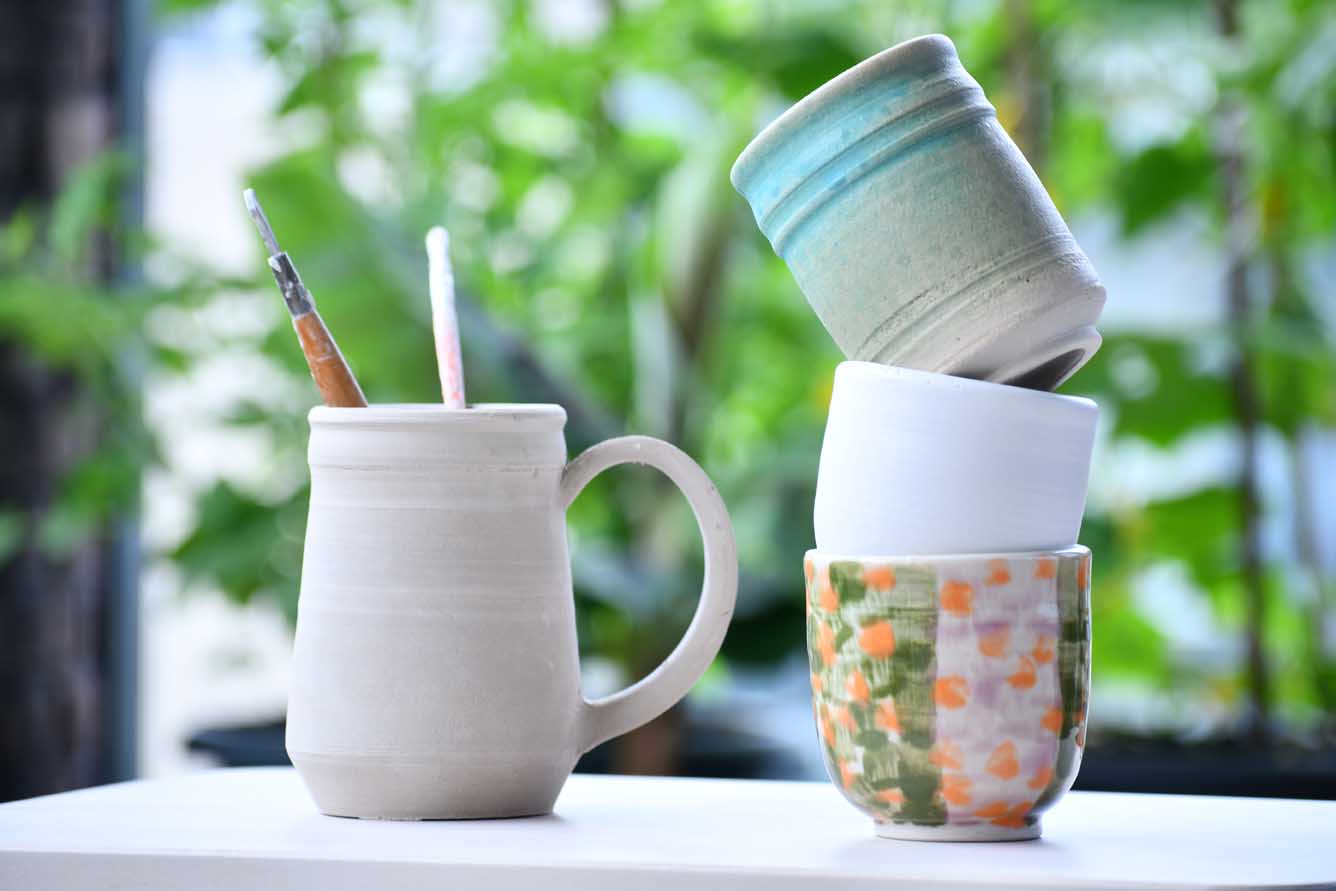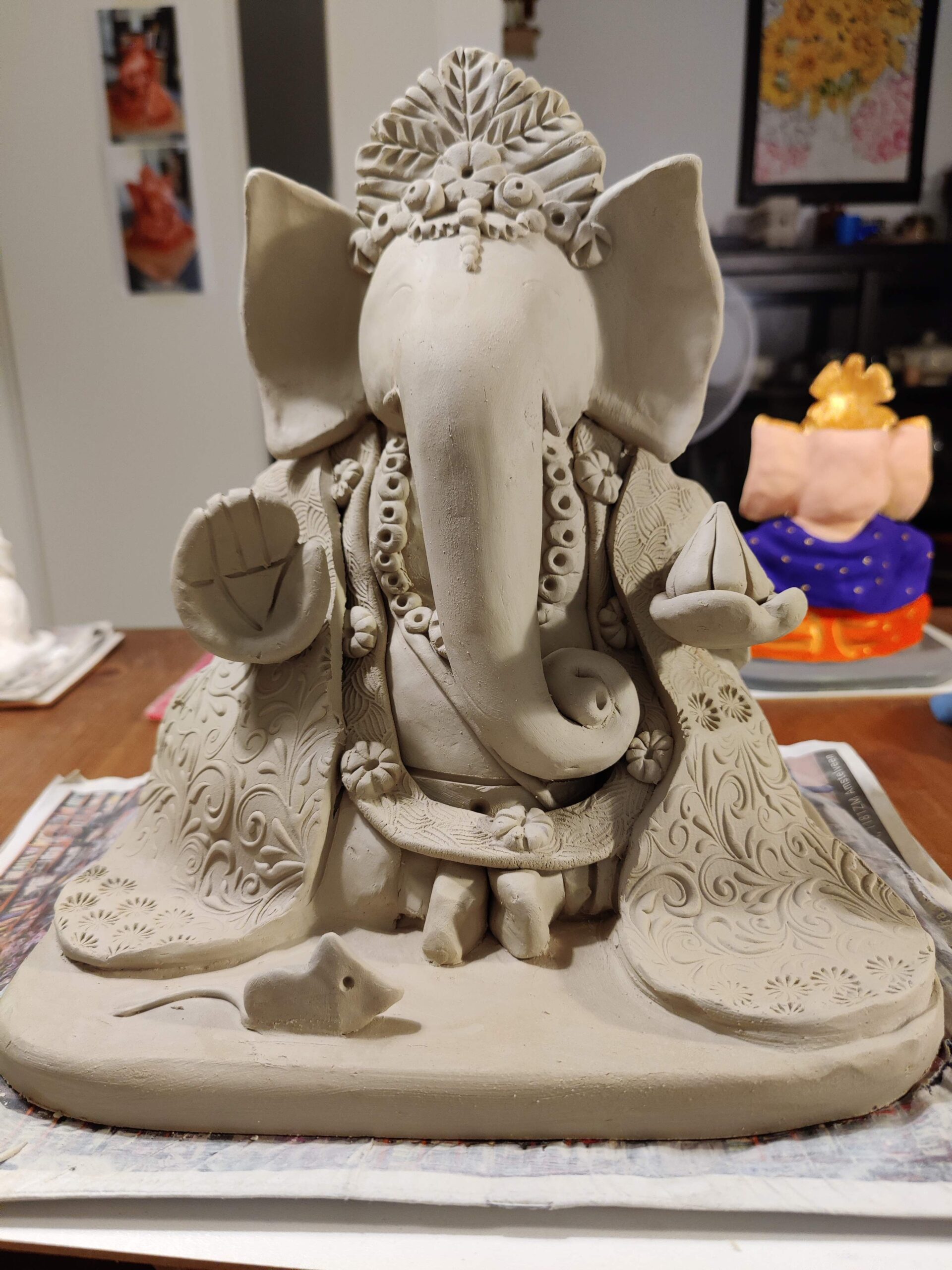 The fabric you wear is a prelude to your personality. The patterns, motifs are woven tightly into the fabric by which one gets judged. Either the common thread binds you or the shiny frills make you stand out. Both ways spinning the wheel of thought. We seamlessly acknowledge these attributes, make a mental note and move towards conversations.
My work revolves around these motifs that create a dialogue of identity. The evolving yet doctrine symbols communicate in a language of colors, patterns and artistic forms.
The pieces reflect Textiles and handloom patterns from different parts of India. These artistic designs are many times derived from the flora fauna in that region. Vibrant rich colors, bold patterns are traits for Indian fabric.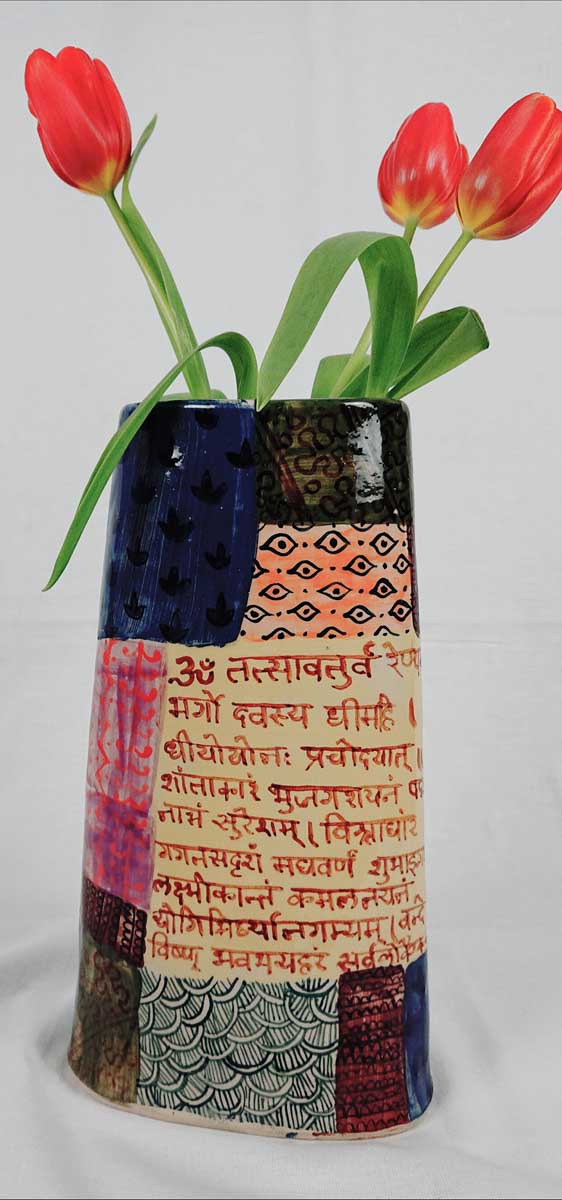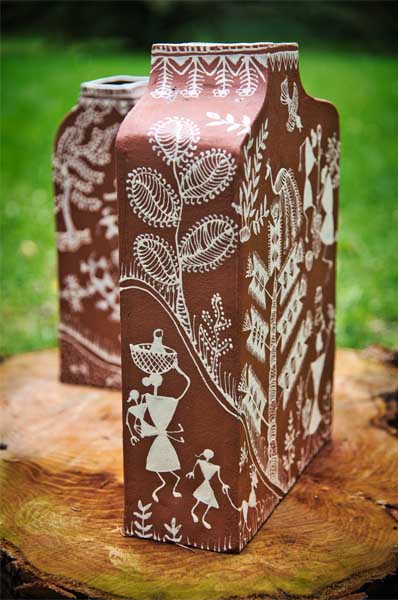 I was born in a suburb of Mumbai, then moved to different parts of India for studies or work . Within India itself what I wore was an essential attribute that was associated with which part of the country I lived. Later when I moved to Germany it became even more underlined. Clothes act as a visual silent transmitter of information.
When people from different backgrounds come together this patchwork gets woven into yet another fabric that in future will be perceived as people belonging to yet another hybrid community. Through my work I am exploring this thread of symbolism.